---
Today I write to you as a newly minted affiliate marketer. This month I sold approximately $1,350 in products between September 1 – September 18th on Amazon.com. Recently, I made it my mission to learn more about affiliate marketing, and I've encountered a lot questions from other bloggers about getting started. So I'd like to share a few observations, tips & tricks (and lessons learned) based on my own experience as I expand my affiliate marketing knowledge.
Before I delve into the how-to's, I'd like to address one major roadblock I see that's preventing bloggers from being successful with affiliate marketing: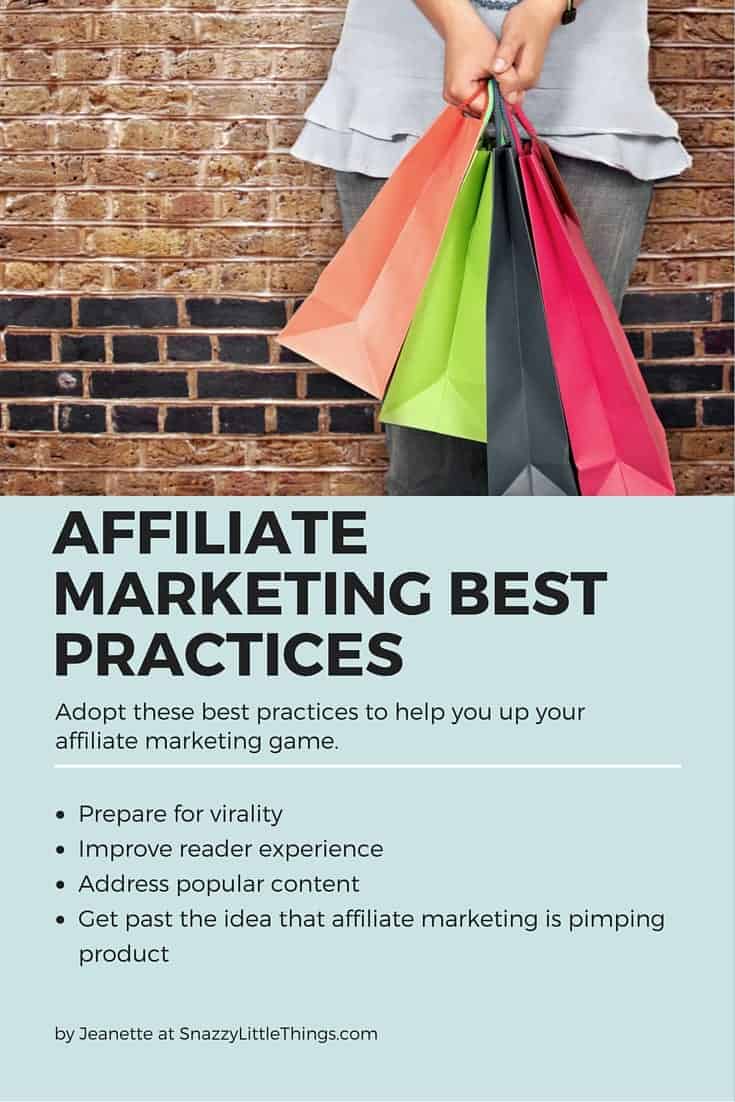 It's not pimping product
As a source of income, sponsored posts have become a widely popular and generally accepted norm, especially in the DIY blogging niche. The art of "storytelling" via sponsored posts has achieved a superior ranking in blogging circles from an income perspective. The reason? Traffic — or lack of.  Sponsored posts get us paid, regardless of the size of our blogs. On the other hand, affiliate marketing takes a lot of work. And while the success of affiliates depends on a number of factors, it seems to work best for larger blogs. However, that doesn't mean that you should ignore affiliate marketing as you prepare your blog for growth. (Two years from now when you have a blog fully populated with affiliate links (and you're a famous blogger), you'll thank me 🙂 
It's my observation that other niches are totally winning the affiliate marketing game. Beauty, nail, and fashion bloggers are making a killing with affiliates, and they link products with reckless abandon. Yet I still hear over and over again (in my niche especially) that affiliate marketing feels as if we're pushing product, or being too sales-y.
Food for thought: the natural inclination of DIY bloggers is that we are risk takers. Our readership is relying on us to provide "source lists" or materials that we use and would naturally recommend. They come to us knowing that we are in the business of breaking things, testing out new DIY methods, and sampling new products all the time. They want links to products! In fact, they're asking for them. Think about the number of times you've replied to comments in a popular blog post and provided readers with specific materials (or source lists) for products you used in the past.
So here are some general "best practices" I've started to adopt when it comes to marketing my affiliates:
Insert affiliate links in your most popular (older) content
Research your most popular content where you used unique products that may not be easy to find. Spend time looking at your site analytics, and add affiliate links to the most popular posts. Another thought: think of a question that you've answered numerous times for readers about "where you can buy" something, and link those products as well. If you've been blogging for a long time and have thousands of posts, you won't be able to tackle every post you've ever written. However, you can certainly do your best to capitalize on your most popular content and add affiliate links there.
Always

include affiliate links in new posts

While it does represent a little bit of work up front, as a "best practice" I now include affiliate links in any new posts I put on my blog. I link to my decorating sources, any power tools I use, or other materials I used in any DIY or craft project. By doing so, readers have immediate access to that product and it will cut down on any delays should they want to purchase something themselves. (So consider this good customer service on your part!) 

The other reason I now include affiliates on every new post?  Virality. Recently, I had a project go viral. That experience is what caused me to write this post…and to share some observations. Lucky for me, I already had all of my affiliate links in place. The up front work was a pain, but that extra time I spent putting in the links into the post made it fun to watch. New readers coming to my site appreciated the links (and even thanked me for them) because the materials I linked were unique and something they didn't know existed.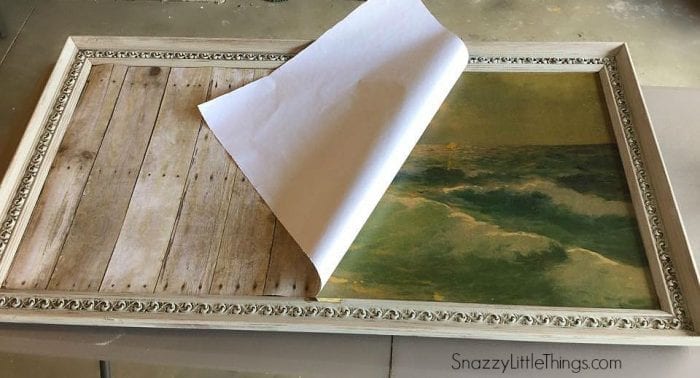 Above: the "viral" project  — see the full post here and how I listed my affiliate links. Over 30 purchases of this weathered wood paper was the result. 
Sell what comes naturally
I now think of affiliate marketing as a "source list" — linking products that I used in a project, or in my room decor. It's things I already own and would recommend. Recently I shopped for farmhouse-style decor on Amazon.com (affiliate link included). I didn't have the time to shop (all true) and found some pretty awesome stuff online.  People don't typically think "farmhouse decor" and "Amazon" in the same sentence. So I wrote a post to share my findings with readers.  Those products (especially the placemats) represented some repeat sales this month.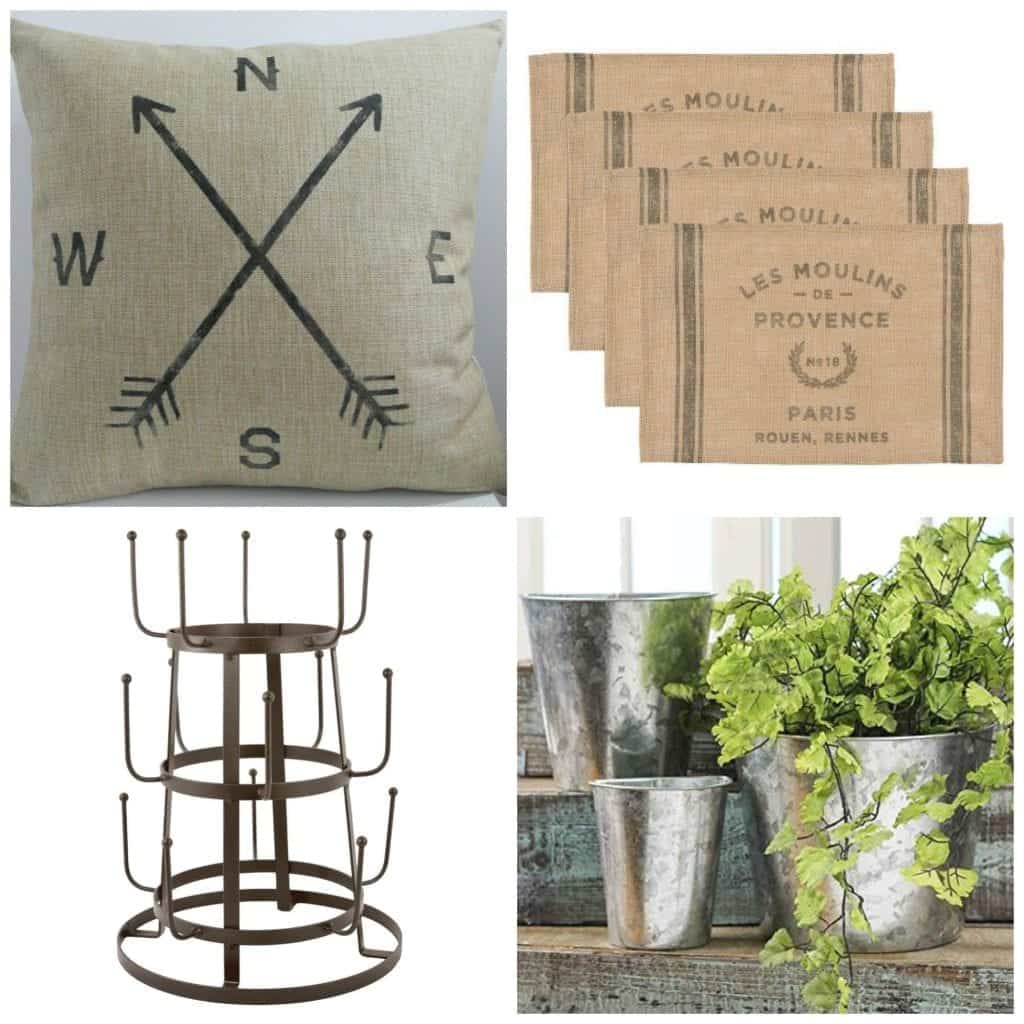 As I photograph these products in my home, I can always reference them with a link back to the original post telling readers where they can purchase the products themselves (because you know they'll ask).
Social Media Shout Outs
Until now, a well-crafted post on Facebook (with the appropriate disclosure) had always been my #1 most reliable way to generate interest in an Amazon affiliate product. Depending on each affiliate's terms and conditions, you may be able to link a product on Facebook (as long as you disclose that this is an affiliate by stating #ad, #affiliate or a specific blurb that you receive compensation. ).  Amazon is totally ok with it. The winning formula seems to go something like this:
Show a product as it arrives on my doorstep (generates interest). 
Stay engaged, be conversational.   
Eventually…someone asks for the link (like in the case of my mattress purchase below):
Here is how I introduced this image:  "I bought a mattress from Amazon.com yesterday, and here it is in my doorstep today. It's amazingly comfortable and perfect for my daughter's loft bed. Would you ever buy a mattress based solely on the reviews you read?"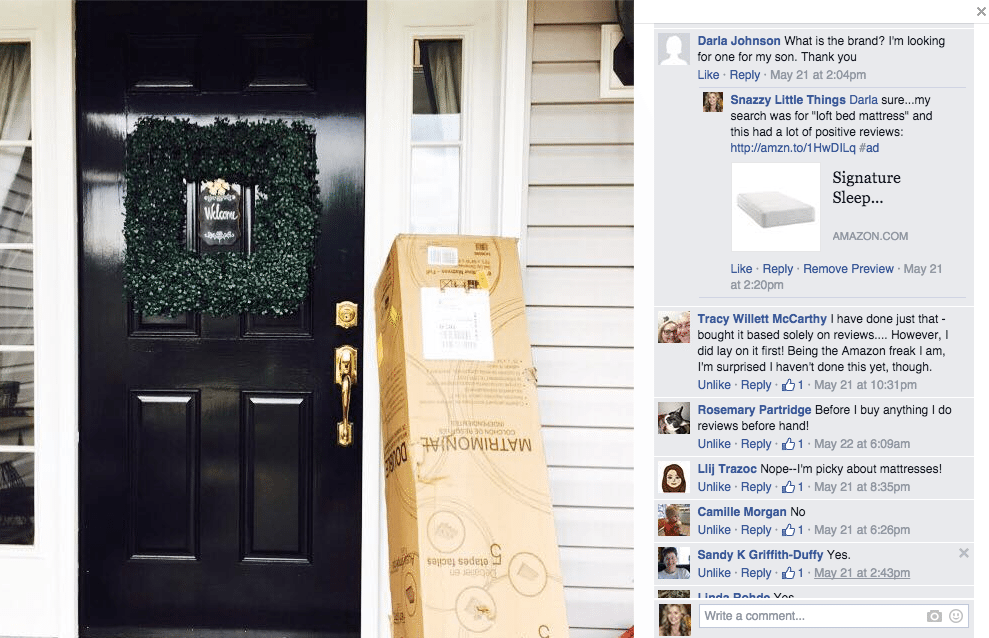 Get the cookies
My job as an affiliate marketer is to provide good, solid recommendations to my readers. You want to ensure you build trust with your readership, and do what comes naturally. When my affiliate storytelling is effective, then the readers will likely click through. Sometimes they buy the product I recommend…but other times, they buy things they need, or whatever catches their eye. I still get credit for those sales as long as they fit the terms and conditions of the affiliate agreement and their "cookie" is still active. (A cookie is a technical term for how a website remembers a reader and their preferences). Each affiliate agreement is different, but most explain how long a "cookie" remains active for each customer. This means that anything the reader purchases within "xx" days of clicking through that link – YOU receive credit.
Manually Coding NoFollow + Checking Links
At one time I used a plugin to automatically install nofollow code in my affiliate links. But I removed the plugin because it appeared to be a bogus site. (DON'T EVEN LOOK UP THE SITE, ITS BOGUS and will infect your computer). So instead, I manually code it, then run a link checker to ensure that I am not in violation of Google's webmaster guidelines with regards to nofollow as well. You must do this for all of your affiliate links on your page. 
Passive vs. Active Sales
Passive promotion is typically how we all start as affiliate marketers. And by the way, there is nothing wrong with this as a starting point — but know that unless your traffic is in the 100K-300K monthly visitors, it won't be an effective way to make money. Examples of passive promotion would be having an aStore and not actively promoting it (see my Amazon affiliate store), building a post with affiliate links (like a Favorite Things Friday, or a holiday gift guide) and hoping that passers-by will purchase the products. While this does provide your readers with useful information, it is an extremely passive form of sales.
Active promotion looks a lot like the mattress post above. It's a combination of generating social media buzz, providing affiliate links with proper disclosure in every post, and being conversational and leveraging the relationship you have with your readership. Don't be afraid to actively share products that your readers might love. Storytelling with affiliates involves more than just one simple blog post. It involves crafting a story using all social media channels at your displosal (and what is acceptable in your affiliate agreement).
What I've learned through trial and error
Remember I said that I sold $1,350 in products? The commission on that is a mere $80!  So….
From this little experiment with affiliates (and the viral post), I've observed that the #1 factor in making it BIG as an affiliate marketer is…traffic.
If you're a big blogger (around 100K+ annual visitors) I can see how affiliate marketing would become a viable source of income. During my viral post – I noticed that I had around 13K visitors on a single day. That post generated about $80 in sales alone. Pretend for a minute that 13K (daily) was my average baseline. Yes, let's pretend.
13,000 x 30 days = 390,000 monthly visitors.  Mmmmkay…
Then based on my recent affiliate earnings, my baseline affiliate sales would be $80/day x 30 days = $2,400/mo…not too shabby!
***
I hope this helps! Let me know if you have any questions!