Project Description
Redoux Interiors is a DIY and furniture flipping site owned by Karen Berg. She is also has been a business owner / representative for paint designer in the past, which she intends to pick back up again.
Prior to contacting Snazzy Designs, she worked with a designer that created a custom WordPress site. Karen felt some of her ideas were not implemented on the site, and she was looking for a designer that could also provide feedback on her site speed issues, which was impacting her reader's experiences.  She wants a cleaner layout, less clutter, and a theme to include options for eCommerce / online stores in the future.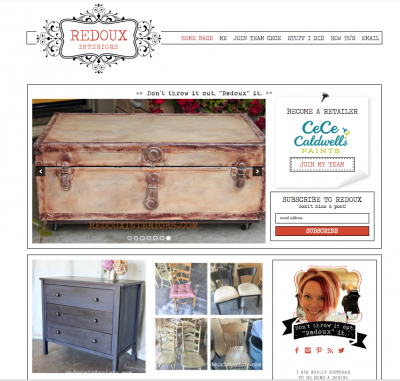 She settled on Foodie Pro for her new theme.
In her admin panel, it was discovered that she has nearly 150 themes are installed on her server, which could be cluttering her database and slowing site speed, however, that cleanup is not in this current scope and will determine at the end of the site design what optimization efforts need to be prioritized.